Oxford dekhengst Canada (Burggraaf pref x Voltaire pref)
Oxford (1996) is een zoon van de preferente hengst Burggraaf uit Kalista keur pref (v Voltaire pref). Als aangewezen hengst (HK 1999) is hij door de familie Nijhof verkocht aan Quo Vadis Stables in Canada. Klik op de links voor meer info.

---
Prestaties
Status: Dekhengst (Approved Canadian Warmblood)

OXFORD zijn Canadese verrichtingstest:
(Bron:www.quovadisstable.ca)
10 - character
9 - temperament
9 - willingness to work
8 - constitution
9 - jumping scope
8 - technique

Commentaar: OXFORD was purchased in Holland from the Nijhof Stud as a "JUMPING SPECIALIST", with the idea of having a stallion with World Class scope & pedigree, correct conformation, modern type, elegant & correct movement, and a temperament that is very suitable to our North American Amateur and Junior market. Judging from his scores in Holland and with CWHBA & CSHA, and from his exceptional foal crops, I think that we have succeeded!

Oxford springt 1.40.
---
Nakomelingen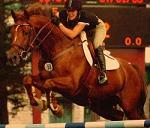 OXFORD babies are showing tremendous scope and desire to jump, with light floating movements and very affectionate and easy-going temperaments. OXFORD foals are gorgeous, correct, very personable, and fancy movers! They LOVE TO JUMP!
(Bron:www.quovadisstable.ca)


---
<< vorige &nbsp Home