Breeding
We are active in horsebreeding since 1956. Our first broodmare GERRIE (family 431) was born in 1946. As a 9 year old she was purchased from family. This Groninger-type mare has still done a lot of work on the fields and was also used for dressage and jumping. She is in the pedigree of all our horses.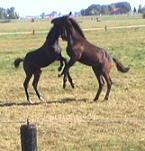 With help from stallions such as Sinaeda, Marco Polo and Farn the transformation to a better riding (jumping) horse was started. Later we used Uppercut , Erdball, Nimmerdor and Voltaire. From Marco Polo , Farn and Nimmerdor we bred national and international jumping horses. Also Flyer (v.Marco Polo) was born at our farm. She was the mother of several national jumping horses and the KWPN-stallion Concorde (v.Voltaire) pref, who jumped Grand Prix classes with Jos Lansink. We can keep up to 12 horses. Stallions are sold. We try to keep at least one mare from each broodmare to secure the genetics of this line.

Most famous stallion from our motherline is without doubt OLYMPIC CONCORDE. The stallion for making showjumpers. In 2004 he was elected "KWPN horse of the year"!.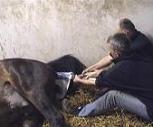 But also a horse like VIVALDI has made good advertizing for our genetics. In 1980 he was crowned in the US as "Speedhorse of the Year".

The current breeding goal is still based on making healthy showjumperswith a cooperative temperament,who are able to compete at the highestlevel.For us are a modern type and correct movements also very important. Other stallions from our lineage are PHILIP (A.E.S.) and OXFORD (Canada).

We breed now with mares from three lines descending from Gerri.First the mare line from Concorde.We have on this moment Amerily elite (v.Cantos), who was placed second on the national mare show as a three-year old. Her first daughter (v.Namelus ) will also be used for breeding.Several brothers from Amerilyís mother were sold to the USA and Canada for jumping and hunter classes.


The second mare line is the line descending from Regina (Uppercut x Marco Polo).Her daughter Kalista elite pref prest at the moment our leading broodmare. She is mother of Oxford (v.Burggraaf).He is approved for it BWP and CSHA. He was jumping 1.40m classes and is a good hunter.Three other children from Lux Z and Numero Uno are also jumping 1.40m.From Kalista we have a daughter from Lux Z and one from Numero Uno.Regina is also grandmother of Tango (Lancelot x Investment), who competed in 1.45/1.50m classes with Francois Lamontagne.


The third mare line is the line descending from Jesca keur pref prest (Nimmerdor x Marco Polo). Several of her brothers and sisters were jumping in 1.30/1.40m classes (Barbarella with Jenny Zoer and Eric Naberink). Jesca is also the grandmother of Audiís Wizard van de Silverhoeve who is successful in international jumping classes with Vincent Voorn. Her daughter Zanesca elite (v.Nassau) is in foal from Lux Z.

Mareline 53 /431
KALISTA is an example of the perfect broodmare. She is very succesful in producing offspring that is doing great on shows and in sports. She even managed to produce a popular stallion in Canada.

This site makes it possible to click through our bloodlines. This information will soon be available in English. Nevertheless we are very interested in recieving e-mail with additional information or pictures from our horses abroad.

---
<< vorige &nbsp Home